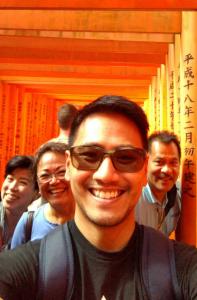 Fushimi Inari Shrine is famous for its thousands of torii gates. They form tunnel like paths on naturally picturesque grounds. The entire place is a fantastic photo opportunity and I do not hesitate to take my own. Look how happy we are to be here!
The title of this post says 'Sparrow' instead of 'Shrine'. This is no mistake. You can buy cooked sparrow in the streets right outside!
Think about the dimensions of a sparrow for a second. Now imagine the tiny and bony thing grilled on a stick. This is the local specialty of Fushimi Inari.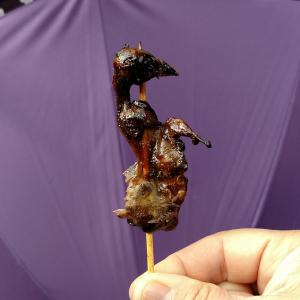 You may be wondering why anyone would bother to cook a scrawny sparrow. Well I have some good news for you! You can eat all the meat and everything else too!
I must note that there is quite a lot of "everything else" involved. For instance, I have never before eaten a beak or a skull. Now I can cross those off my list with confidence.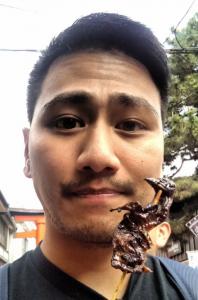 I close my eyes. I smell the bird. It smells like regular BBQ chicken! I take a bite somewhere around the middle. It tastes like good BBQ chicken, but I do have some trouble with the texture. I am not used to chewing on tiny bird bones and cartilage, but I can appreciate why locals like the taste of this bird.
The eating experience is inconsistent to say the least. The amount of actual meat on the bird is a bit of a mystery. I am unsure whether the chef bothers to remove the brains, eyes, or whatever connects to the cloaca. Perhaps it is better I not know.
Eating the head is the worst part of the experience. This is mostly due to texture and my inability to appreciate crunching down on skull and beak. Do you know that awful feeling you get when you step on a snail and it makes that crunch sound? You even feel the crunch through your shoe! Now feel that crunch in your mouth and try not to gag.
I try not to gag. I gag anyway. Little bits of skull get wedged between my teeth. I panic that I cannot finish this bird cleanly. So I force a swallow and rush to wash it all down with something strong.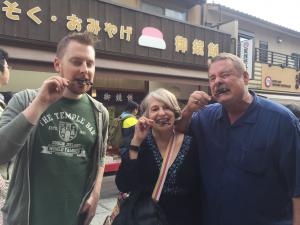 Would I do this again? Absolutely not! Do I recommend others try it? Absolutely yes! The horrible textures in this delicacy are balanced by the good grilled flavor of the bird.
Have you tried Fushimi Inari Sparrow? Would you try it? Why or why not?